Zoom
Sale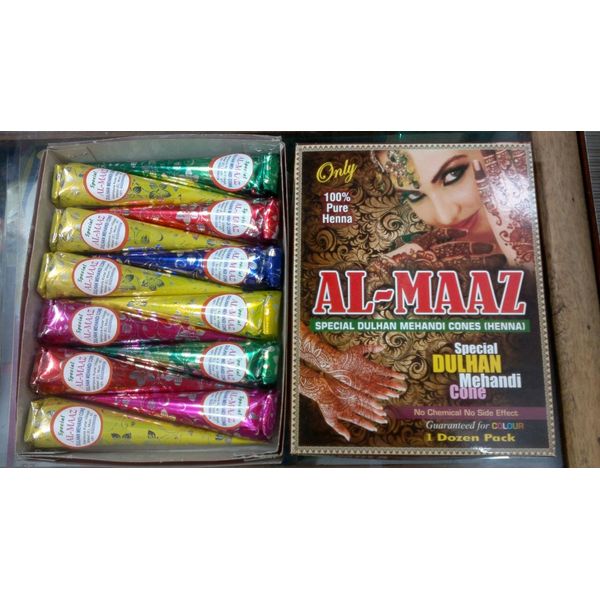 Al - Maaz Special Dulhan Mehandi Cones ( 45 gms x 12 pcs )
Price: Rs.180 Rs.99 45% OFF
Al - Maaz Special Dulhan Mehandi Cones ( 45 gms x 12 pcs )
12 Cones of Henna Mehandi, Temporary Tattoo Ready Mixed Henna Tattoo Pre Mixed Paste Hand Rolled Cones, Bridal Henna Mehndi Cone Paste
Brown Color Mehndi
Indian Wedding Ready Mixed Tattoo
Natural Pre Mixed Paste Hand Rolled Cones
QUANTITY : -: 12 Cones x 45 gm each
Pre-mixed henna paste is ready to use, NO mixing required
100% natural, NO chemicals
We only offer safe natural henna without dangerous chemicals. Our henna is always a natural henna color in the red/brown family.
Herbal henna mehendi imparts 100% Natural Guaranteed Dark Colour. For use on Occasions of Festival , Marriages, Other Ceremonies and Body Tattoos.
NOTE: The color of the cone wrapper may differ from the one in picture.
Details
Benefits
Henna is a natural product that can be used to prevent hair fall and for natural hair growth. Henna not only gives natural colour to your hair but also prevents hair fall. Some other benefits of henna are: • Henna is a natural powder that not only gives color to your hair, but also prevents dandruff and itching of the scalp. • Henna is a good hair conditioner and helps in natural growth of your hair. It is a natural source for people who wanted to get rid of grey hair. • Many people are allergic to chemical substances that are present in chemical hair dye. Henna is an excellent substitute for such people who want to colour their hair without getting any side effects. • Henna also makes your hair strong and gives silky and shiny appearance to your hair. There is less breakage and less hair fall by using henna as a hair colour. • Henna thickens your hair and gives a healthy appearance to your hair. • Henna also has antibacterial and antifungal properties due to which it promotes hair growth.
How to apply
Apply on hands , nails etc . Just wait for 20 minutes or dry it, scratch & remove dried paste and wash gently with water.
Key Ingredients
Henna powder , Tumeric powder , Distilled water , Katha powder , Kesari powder , Clove oil , Eucalyptus oil.
SIze
45 gm x 12 pcs.
0