Zoom
Sale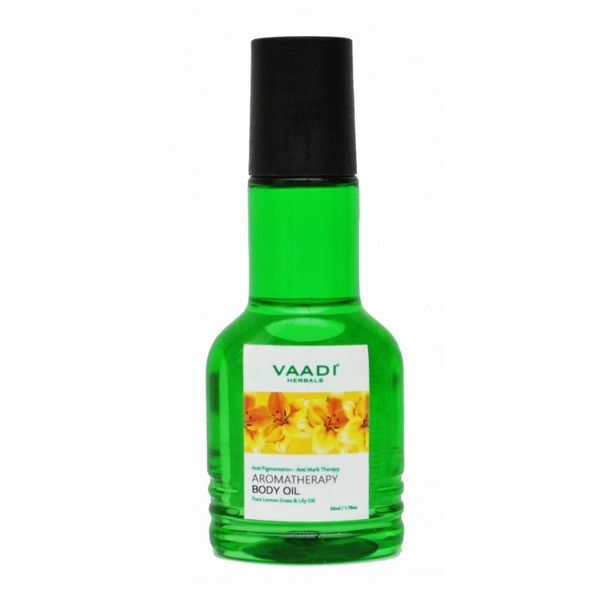 Aroma Body Oil with Pure Lemon Grass & Lily Oil
Price: Rs.110 Rs.62 44% OFF
Quick overview
A royal mix of super rich oils. It deeply hydrates the skin, removing dryness, thereby making your skin look and feel young & fresh.
Increases blood circulation & repairs dry & sun damaged skin. Strengthens bones & removes skin blemishes & dark skin patches. Aromatherapy oils reduce stress, headache, cold & cough.
Details
The skin is the largest sensory organ of the human body which is exposed 24*7 to dirt, pollution, rain, UV rays of the sun and a plethora of foreign bodies around us
The skin produces collagen and elastin which help in maintaining the smooth, even-tone texture and elasticity of the skin
With age, the production of collagen and elastin are reduced
This usually begins in the mid-20's
But due to the stress and forever-on-the-toes lifestyle nowadays, skin aging is seen in people as young as in their early 20's
One of the major causes for an unclear skin is sun exposure
Our body releases a darkening pigment, or melanin, in response to UV exposure; causing skin tan
Its non-uniform distribution in the body causes uneven pigmentation and/or freckling
Another reason for marks is scarring due to acne, wounds etc; multiplied by the slower cellular regeneration (repairing) of maturing skin
Aromatherapy uses essential oils from plants; certain of which exhibit anti-oxidant properties and promote re-growth of new, healthier cells; while protecting skin from solar damage
Some oils also help keep the skin free of infections, and thus consequential scarring
The added benefits of these oils include relieving muscular aches; strengthening the immune system; reducing stress; as well as remedying cough and cold
Olive OIl : Strengthens bones & softens skin
Reduces skin wrinkling & ageing
Lily Oil :Has excellent scar healing properties
Improves skin complection & protects skin from sun damage
Vitamin E : Antioxidant protects skin from sun rays
Lemon grass Oil : Penetrates deep into the skin pores & removes pigmentation marks, skin blemishes & dark skin patches
Excellent skin toner
Additional Information
Olive oil is a rich source of anti-oxidants; including Vitamin E, polyphenol and hydroxytyrosol. These safeguard the skin against, as well as repair free radical damage to it; which is aggravated by sun exposure and results in premature aging of the skin. They also stimulate cellular regeneration, thereby helping in scar reduction. Its hydrophilic nature, fatty acid content as well as it deep penetrative ability makes it an excellent moisturizer for dry flaky skin. Lily oil is extracted from Lillium candidum, also known as White Lily. Its constituents, polysaccharides and saponins, grant it anti-inflammatory and soothing properties. Polysaccharides further render it an emollient. Vitamin E is a natural anti-oxidant; thus it defends the skin against UV rays-induced damage, by protecting it from tissue degeneration. Sun is a majorly responsible factor for the formation of free radicals, which are known to destroy cells and lead to premature aging. And Vitamin E scavenges these free radicals. It also helps repair the damage already caused by the sun, by promoting growth of newer, healthier cells. Lemongrass oil is astringent in nature. It provides deep pore cleansing; removing excess oil and impurities from pores, and tightening them. Its anti-microbial property helps fight acne, athlete's foot and other skin infections.
Details
Benefits
Anti-acne & Pimples , Blackheads & Spot Removal , Anti-Ageing
Formulation
Oil
Key Ingredients
@ Lemon Grass Oil : Helps to minimize pores, limit the secretions of oil and provide a temporary skin-firming treatment. @ Lily Oil : It is also helpful in healing the scar tissues quickly and effectively. Helps in skin lightening. @ Olive Oil : Helps to moisturise extremely dry skin prone areas, regenerate skin tissue, treat sunburns and provide glow to the skin. @ Vitamin E : Helps in smoothening out the fine lines and wrinkles. Acts a moisturiser for skin. Keeps the skin away from dirt, grime, dead cells and debris that get accumulated on the top layer of the face, make it look dull and tired.
Other Traits
Application Area - Body Both use Men & women also child.
Size
50 ml
Skin type
Dry Skin
Type
Organic & Natural
0