Zoom
Sale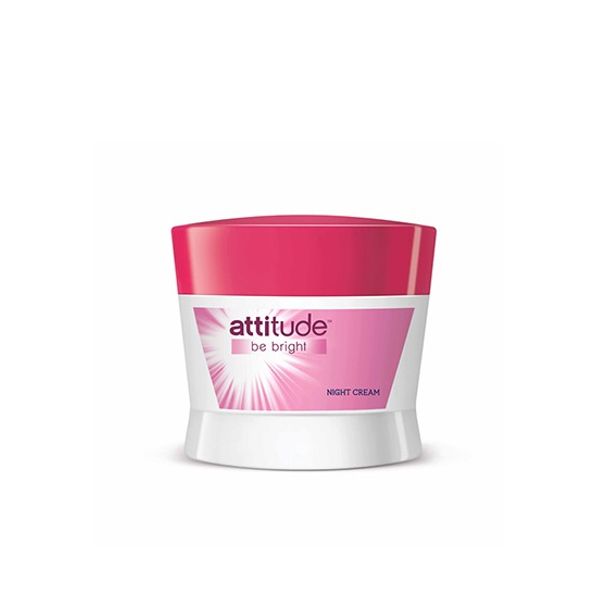 Be Bright Night Cream ( 50 gms )
Brand: Attitude
Product Code: ND265598
Availability: In Stock
Price: Rs.725 Rs.549 24% OFF
Let Your Unique Beauty Glow Bright. Be Bright Night Cream is specially formulated with the Brightening Complex that helps in visibly fairer glowing skin in just 4 weeks**. The cream provides night long moisturisation and emolliency that keeps your skin soft and supple.
Be Bright Night Cream contains Brightening Complex comprising of :
*LumiskinTM, a skin lightening agent that works from both on the surface and from with It helps decrease the melanin production causing reduction in dark spots and blemishes.

Lotus Japonicus Symbiosome Extract – that helps keep skin brighter and even toned.

Vitamin A,E – Antioxidants that help to protect skin against free radicals and work toward younger looking skin
Be Bright Night Cream has Brightening Complex that acts on all the 5 signs of skin darkening:
Helps to lighten skin colorHelps to restore skin's natural glow

Helps to reduce appearance of dark spots and blemishes

Helps to even skin tone.

Helps to make skin firm and youthful.

*LumiskinTM is a registered trademark of Sederma SAS
Use Instructions:After cleansing your face with Be Bright Face Wash, apply a small quantity of Be Bright Night Cream and spread gently over face and neck.To be used every night.
**System Claim: System includes the products Be Bright Day Cream, Be Bright Night Cream, Be Bright Face Wash, Be Bright Face Masque, Be Bright Face Scrub
Details
Directions for use
After cleansing your face with Be Bright Face Wash, apply a small quantity of Be Bright Night Cream and spread gently over face and neck.To be used every night.
SPF Rating
Brightening Complex
Size
50 gm
We also recommend:
Be Bright Face Wash
0