Zoom
Sale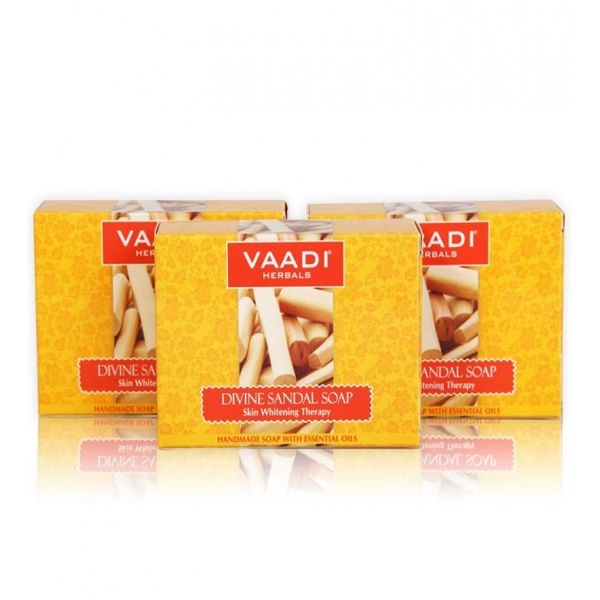 Divine Sandal Soap with Saffron & Turmeric
Price: Rs.199 Rs.108 46% OFF
Quick Overview
A time-tested combination, of Chadan (Sandalwood), Kesar (Saffron) & Haldi (Turmeric); this soap is your route to a glowing flawless skin. The three herbs work synergistically to improve your skin, granting you a luminous, smooth & gleaming skin.
Details
• Provides a visibly fairer and even complexion • Helps easily get rid of suntan • Fades blemishes and pimple marks • Makes the skin soft and smooth • Hydrates the skin without causing it to get oily • Removes excess oil from the skin and pores to prevent breakouts • Gives the skin a radiant glow • Helps calm the skin and prevents rashes (prickly heat) • Eases itching of the skin • Prevents wrinkle formation due to suntan
Additional Information
How is Sandal Oil (Chandan) beneficial for the skin? This fragrant oil is extracted from the Santalum trees which are found in the Indian Sub-continent, Indonesia, Australia and Pacific Islands. The Australian and Indian Sandalwood (also called Santalum album) are regarded as the best. Sandalwood Oil is notable for the following:
ANTISEPTIC QUALITY: Sandal oil has an excellent antiseptic quality and cooling effect which prevents rashes, blackheads, eruptions and allergies. Cuts and wounds heal faster with application of sandal oil.
NATURAL SKIN TONER & ASTRINGENT: Sandal wood is a skin toner, which even tones the skin in a subtle way and imparts a glow. It's a boon for oily skin type as it removes the excess oil from the skin surface.
GERMICIDAL QUALITY: One of the best quality of Sandal Oil is it being germicidal. On application, it automatically prohibits the growth of bacteria on skin. SOFTENS and MOISTURISES the skin: Another benefit of Sandal oil which is indeed incomparable is it's quality of moisturizing the skin in a way that it makes the skin soft, supple & improves the skin texture.
How does Saffron bring out a flawless, beautiful YOU?
Crocus sativus or the Saffron Crocus is the spice from which Saffron extracts are taken. Saffron cultivation is mostly found in Kashmir, Spain and Greece where it depends on the rainfall. The main region for cultivation is Iran.
WHITENING and EXFOLIATING: Saffron has special skin-whitening property. It's great exfoliating quality aids a clearer complexion. All dark patches, pigmentation, blemishes and scars fade away in no time
IMPARTS A GLOW: Saffron clears skin and imparts a healthy squeaky clean glow.
ENHANCES SKIN TEXTURE: Saffron tones the skin, cures allergies, itchiness and dryness thereby beautifying the skin and enhancing it's texture. What is special about Turmeric? Growing mostly in South Asia, Curcuma longa or Turmeric is a great herb for the skin. It's medicinal properties make it the most-sought herb of all times.
REDUCES INFLAMATION: Turmeric is one of the best anti-oxidants for the skin. It provides a quick relief from skin inflammations and nips allergies in the bud.
PREVENTS PIMPLES,ACNES: Turmeric prevents the skin from any kind of damage (by pollutants in the air, bacteria, etc.) and clears off pimples and Acne related problems giving way to a smoother, softer and flawless skin that attracts compliments.
CLEARS SCARS AND BLEMISHES: Turmeric helps in the lightening of post-acne scarring and blemishes. Black spots caused due to sun exposure also clear off leaving a beautiful, flawless you.
Directions Of Use
Apply generously on wet skin, lather and lightly massage. Wash off.
Details
Benefits
Anti-acne & Pimples , Cleansing/Daily Use , Blackheads & Spot Removal , Anti-Ageing , Whitening & Fairness
Ideal For
All skin type
Key Ingredients
# Crocus Sativus : Contains natural skin lightening qualities. Induces naturally fair skin. # Sandal : Acts as an effective moisturiser for dry skin and also as a cleansing agent, thereby removing all the dirt from the skin pores and prevents the skin from acne. Keeps the skin soft, smooth and glowing. # Turmeric : Contains antiseptic and antibacterial properties which fight pimples and breakouts to provide a youthful glow to your skin. Acts as an excellent exfoliating agent, which helps in eliminating signs of aging. Helps to remove skin tanning and pigmentation.
Size
75 gm x 3 pcs
Type
Herbal
0