Zoom
Sale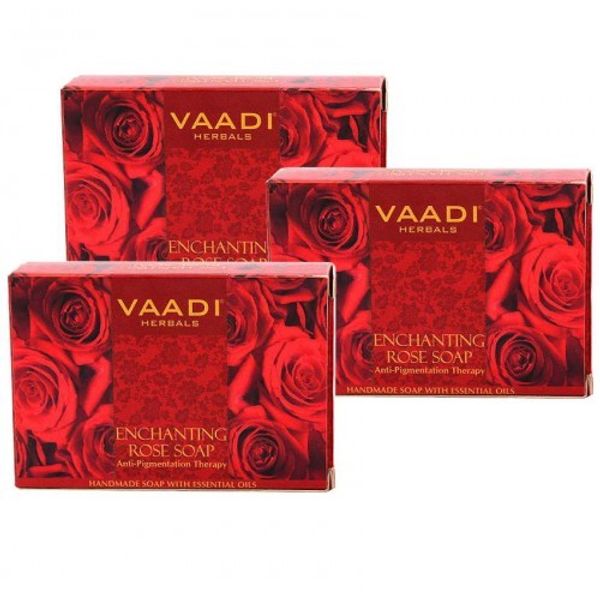 Enchanting Rose Soap with Mulberry Extract
Price: Rs.199 Rs.108 46% OFF
Quick Overview
A powerful smooth skin complex, this soap gently but effectively cleanses your skin. English Rose's astringency and rich Vitamin C content provide nourishment, making your skin healthy, while Mulberry extract makes your skin clear, smooth & shiny.
Details
Vaadi Herbals Enchanting Rose Soap with Mulberry Extract contains English Rose: Lightens pigmentation marks
Tones skin
Mulberry: Controls melanin production
Prevents pigmentation
Ingredients: Extract of english rose, jojoba oil and mulberry, rose oil, olive oil, coconut oil, palm kernel oil
Additional Information
Vaadi Herbals is associated with Rajvaidya Group, one of India's oldest and most recognized manufacturers of Ayurvedic health care products since 1868. Vaadi Herbals has combined Ayurvedic science with modern technology to develop a whole new range of personal care products enriched with the extracts of best quality natural herbs to cater to the needs of the whole family. Every product of Vaadi symbolizes the company's philosophy that the consumer should get value for his money and at the same time the products are effective for the purpose for which they are made.
Directions Of Use
Apply generously on wet skin, lather and lightly massage. Wash off.
Details
Benefits
Cleansing/Daily Use , Blackheads & Spot Removal
Ideal For
All Skin Types , Body & Face
Key Ingredients
@ Aloe Vera : Helps lighten the skin and to alleviate sun tanning and hyper pigmentation. Keeps the skin hydrated and increases its elasticity. @ Honey : Helps in acne treatment and prevention. Used for slowing down aging. It is extremely moisturizing and soothing. It is loaded with nutrients, antioxidants, and healing compounds. @ Rose : Contains high amounts of vitamin C which helps to protect skin cells from damage, such as from staying out in the sun too long. Keeps the skin smooth and moisturized. Helps to tighten pores and restores suppleness for a glowy complexion.
Size
75 gm x 3 pcs
Type
Herbal
0