Zoom
Sale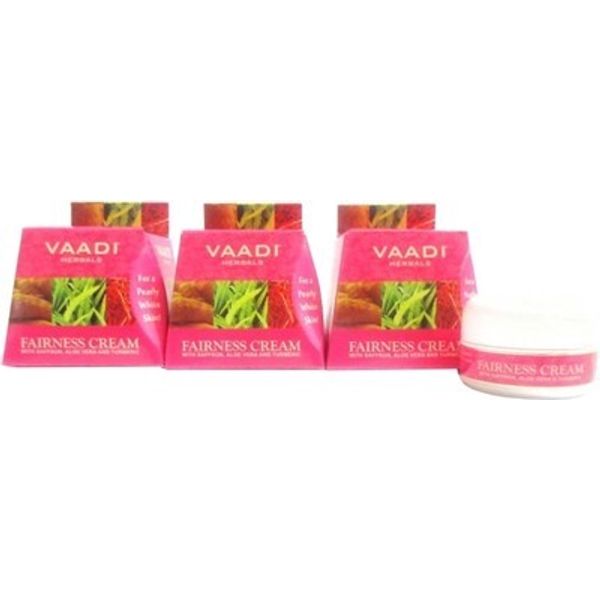 Fairness Cream - Saffron, Aloe Vera & Turmeric Extracts Set of 3
Price: Rs.168 Rs.115 32% OFF
Quick Overview
A time-tested combination of Saffron & Turmeric has been enriched with the age-old goodness of Aloe Vera, to give you a fair & flawless complexion! Together they penetrate your skin to control the production & uneven distribution of melanin, and deep moisturize it. Marks & blemishes lighten; and your face is left supple, perfectly smooth & flawlessly fair!
Ingredients
Multivitamins : Protect skin from UVA & B rays. Improve skin texture making it smooth & radiant.


Aloe Vera : Moisturises & nourishes the skin.


Manjistha : Improves skin complexion.


Lemon Peel & Orange : Clears skin blemishes, pigmentation marks and dark patches.
How to use product
Clean your face with mild soap. Apply this skin whitening treatment over your face & neck in upward circular motion, twice a day.
Details
Composition
Aloe Vera, Saffron Extract, Manjistha, Lemon Peel, Orange, Turmeric Extract
Directions for use
Clean your face with mild soap. Apply this skin whitening treatment over your face & neck in upward circular motion, twice a day. Our basic skin tone is decided by our genes. However, over time a number of factors cause it to darken or become patchy. The biggest factor happens to be sun exposure. Our body produces melanin (darkening pigment) as a defense against UV rays. This is commonly referred to as sun tan. However, the distribution of melanin, throughout our body is not uniform. Thus, non-uniform secretion causes some spots to be darker than the others; resulting in unevenness. Another factor is sebum (natural oil) production in our body. Too much of it causes acne (that may also leave scars) and blackheads; while too less means dry, cracked skin, and accumulation of dead cells; all of which result in uneven texture. Moreover, as we age, new cells generate at a slower rate; making it difficult to undo the damage so induced; and only adds wrinkling to the list.
Ideal For
Women, Men
Type
Herbal
0