Zoom
Sale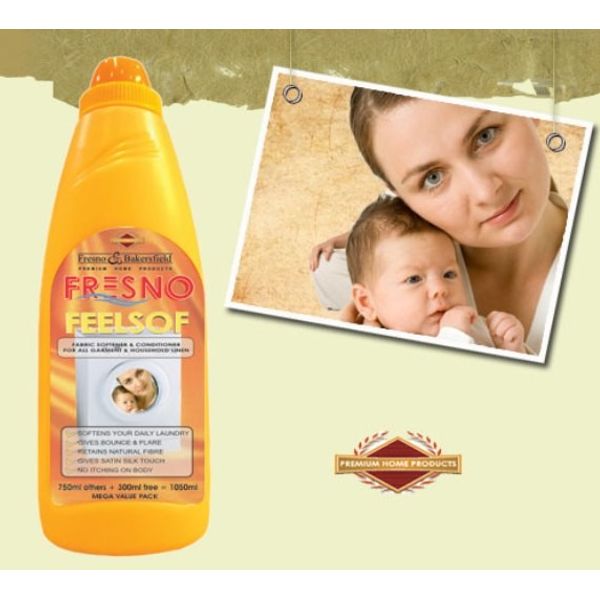 FEELSOF (Premium Eco Friendly FABRIC SOFTENER & CONDITIONER )
Brand: FRESNO
Product Code: NDF213
Availability: In Stock
Price: Rs.170 Rs.140 18% OFF
FEELSOF (Premium Eco Friendly FABRIC SOFTENER & CONDITIONER )
FABRIC SOFTENER & CONDITIONER FOR POYASTER & COTTON,SILK& WOOLLEN GARMENT
FOR KIDS & EXPENSIVE CLOTHS, SILK & WOOLEN
Description
You work hard to keep everything clean. Shouldn't your detergent? With a new and improved formula, this detergent seeks out dirt and stains better than ever before. It leaves you with an even more beautiful fresh, floral scent – so your clothes look great and smell good, too.
Benefits
SOFTENS YOUR DAILY LAUNDRY
Primeum Home Cleaning Products
Eco Friendly - Bio Degradable Product
More Info
Is this product safe for septic systems?
Yes, all FEELSOF products are septic safe. They won't cause sludge to form or disrupt the natural bacteria that keep your septic system working.
Is this product safe for HE (high efficiency) washers?
Yes, all FEELSOF products are safe to use in HE washers.
How can I clean the inside of a washing machine?
It's easy. Use two scoops of FEELSOF All Fabric Bleach. Set the temperature to hot and the load size to large. Run the complete wash cycle. This is especially important at public Laundromats.
Details
Directions for use
Add 1 cap ( 15 ml ) into 1 Bucket water. 1 ml into 1 Liter water
Size
1000 ML
Suitable For
POYASTER & COTTON,SILK& WOOLLEN GARMENT FOR KIDS & EXPENSIVE CLOTHS, SILK & WOOLEN
0