Zoom
Sale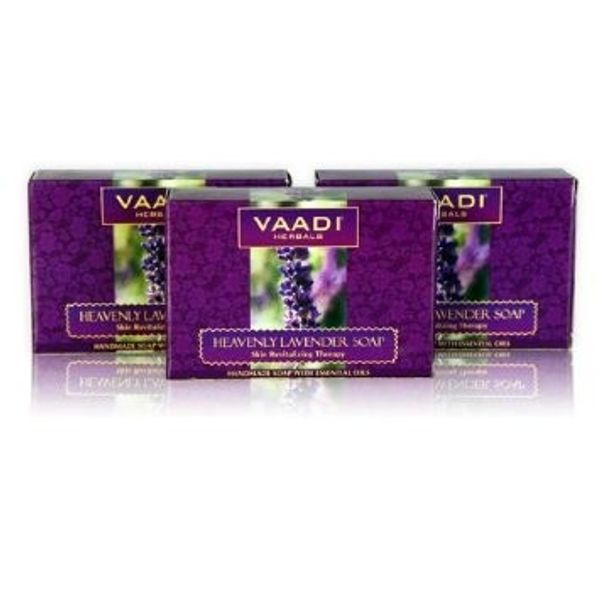 Heavenly LAVENDER SOAP with Rosemary extract (3 X 75 gms)
Price: Rs.209 Rs.120 43% OFF
Quick Overview
A refreshing and skin rejuvenating mixture of Lavender & Rosemary, this soap breathes new life into your skin. Together they deeply massage the skin, thereby improving shine & suppleness. They also moisturize the skin and make it super soft & fresh.
Details
• The natural herbs in this soap effectively curbs wrinkles, fine lines, dry patches, lack-lustre look and tell-tale signs of aging. • Acts as a potent and damage-free personal skin care product that can be used for a long time due to its mild nature. • It contains lavender that promotes cellular re-growth and rosemary that stimulates skin regeneration and circulation. • The moisturizing properties of the soap removes dry cells and flakiness to hydrate the skin and make it look fresh all across the day. • Contains effective, organic and fast reacting skin cleansers that regulate oil production, reduce skin eruptions, and promote cell re-growth.
Additional Information
How can herbs breathe new life in the skin?
As a person ages, the production of elastic and collagen is gradually decreased, mostly around the late 20's. Stress levels further catalyze the skin aging process.
How do Lavender Extracts prove to be effective?
Lavender Extracts are naturally occurring effective skin cleansers. Lavender regulates the production of oil by the sebaceous glands thereby guarding the skin from pollution, foreign bodies and infections that may harm the skin.
What is Rosemary and how does it retard skin aging?
Growing in the Mediterranean, Rosemary is an effective treatment in itself for premature skin aging. Essential oil from Rosemary is distilled from its leaves and flowers.
Directions Of Use
Apply generously on wet skin, lather and lightly massage. Wash off.
Details
Benefits
Moisturizing
Ideal For
All skin type , Body
Key Ingredients
# English Lavender : Helps in fighting the bacteria causing acne infections which results in reducing the swelling and redness. Helps in fighting skin ageing. # Lavendula Angustifolia : It is great for skincare due to its antiseptic and antifungal properties which help to reduce scarring and speed up healing. # Rosemarry Extract : Acts as a powerful antioxidant, thereby reduces the effect of ageing on the skin and essentially helps in tightening of loose skin. Contains powerful disinfectant and antiseptic properties which helps to treat acne and oily skin conditions.
Size
75 gm x 3 pcs
Type
Herbal
0