Zoom
Sale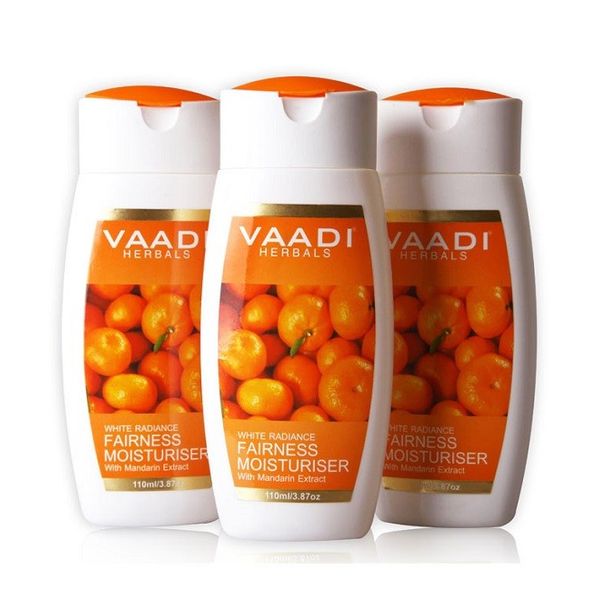 Herbals Fairness Moisturiser With Mandarin Extract (110 ml x 3 )
Price: Rs.354 Rs.177 50% OFF
Quick Overview
This dual-action formulation effectively lightens your skin tone while deep-moisturizing it. The presence of Vitamin-C-rich Mandarins externally lightens the complexion. On the other hand, the Silk Extract works from the inside, by controlling the production of skin-darkening pigment, melanin. Together they grant you a softer, smoother & fairer complexion.
Ingredients
Mandarin : Lightens Skin. Maintains Moisture Balance.


Silk Extract : Controls Melanin Production.
Details
Ideal For
Women, Men Skin Brightening, Anti-ageing, Moisturization & Nourishment
Key Ingredients
Minerals, Vitamins, Mandarins, Vitamin C, Silk Extract
Other Traits
Last for Several Months, Deep Moisturizing, Provides Glow, Soft, Smoother and Fairer Complexion, Controls Production of Skin Darkening Pigment Melanin, Once or Twice a Day Usage, Dual Action Formulation, Maintains Moisture Balance, Easy to Use and Apply
Size
110 ml x 3 pcs
Skin type
All skin type
Use for
Last for Several Months, Deep Moisturizing, Provides Glow, Soft, Smoother and Fairer Complexion, Controls Production of Skin Darkening Pigment Melanin, Once or Twice a Day Usage, Dual Action Formulation, Maintains Moisture Balance, Easy to Use and Apply
Type
Organic , Herbal
0