Zoom
Sale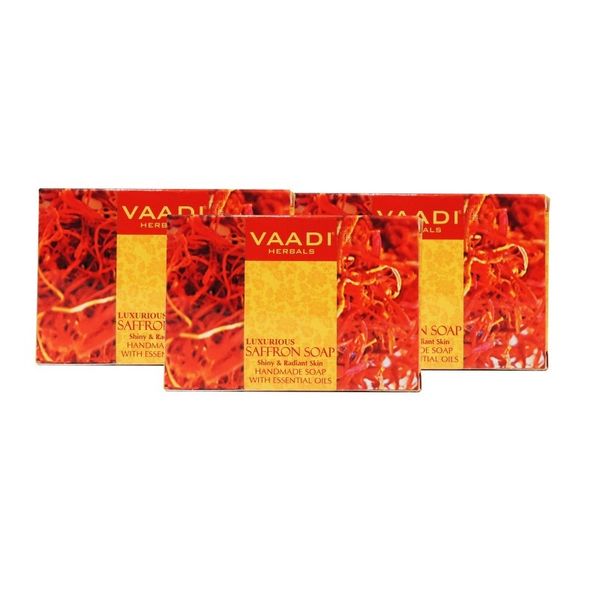 LUXURIOUS SAFFRON SOAP (3 X 75 gms)
Price: Rs.209 Rs.120 43% OFF
Quick Overview
A truly beauty soap for the royalty. Enriched with multi-mineral-rich content of Saffron & goat Milk, this soap radiates and smoothens your skin, while cleansing away pore-deep impurities. It gently improves glow and grants you a clean, flawless & clear skin.
Details
• Restores skin lustre and glow
• Gets rid of suntan and reduces melanin in the skin
• Softens the skin to give it a smooth look and feel
• Prevents skin from appearing dull, tired and dry
• Removes excess sebum from the skin to prevent clogged pores
• Gently works to reduce visibility of pimple and acne blemishes • Evens the skin tone and texture
• Wards off freckles, lines and wrinkles due to sun damage
• Gives the skin an attractive radiance
• Nourishes the skin to maintain its healthy appearance
• Works as a gentle exfoliant
Additional Information
What are the benefits of Goat Milk?
Goat Milk is known to be a great natural cleanser. Dehydrated, dry and parched skin gets an instantaneous respite by use of goal milk extracts. Having excellent emollient properties, Goat Milk is an effective moisturizer that nourishes and cares for the skin like no other making it soft, supple and beautiful. This Skin Whitening Therapy containing Goat Milk seeps deep in the skin's layers and hydrates the skin without clogging the pores. Goat Milk extracts contain alpha-hydroxy acids that rejuvenate the skin by exfoliation which thereby simulates the regeneration of new skin cells. With regular application, the skin becomes velvety soft and a rosy perfume accompanies you always.
How does Saffron whiten and brighten the skin?
Found Iran and also cultivated in Kashmir, Spain and Greece, Crocus sativus or simply Saffron is a medicinal herb which is very well known for it's soothing properties and tremendous uses. Saffron helps in deeply exfoliating the pores giving you a cleansed, fresh and flawless skin. Scars, sun spots, dark patches and blemishes fade quickly as saffron acts under the skin's epidermal layer, healing and rejuvenating the skin from within and imparting a healthy glow on the outside. Toning the skin, curing burns, rashes and allergies, Saffron safeguards the skin from further damage by acting as a shield. Saffron moistens the skin to prevent dryness and itching thereby enhancing the texture.
Directions Of Use
Apply generously on wet skin, lather and lightly massage. Wash off.
Details
Benefits
Anti-acne & Pimples , Cleansing/Daily Use , Whitening & Fairness , Anti-Ageing , Oil Control , Blackheads & Spot Removal
Ideal For
Dry Skin , Oily Skin
Key Ingredients
@ Crocus Sativus : Contains natural skin lightening qualities. Induces naturally fair skin. @ Goat Milk : It contains vitamin A which repairs damaged skin tissue, and maintain healthy skin.
Size
75 gm x 3 pcs
Type
Herbal
0