Zoom
Sale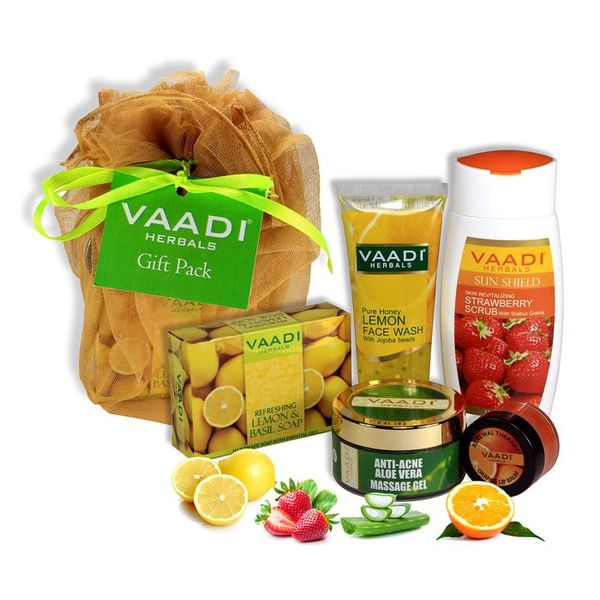 Vaadi Herbals Youthful Skin Gift Pack (Set of 5)
Brand: Vaadi Herbals
Product Code: NDVAADI01
Availability: In Stock
Price: Rs.459 Rs.399 13% OFF
Vaadi Herbals Youthful Skin Gift Pack (Set of 5)
Vaadi Herbals introduces these skin care products that are made of rich organic ingredients and retain your glow and leave your skin moisturized and youthful.
Lemon Face Wash
Use this face wash to remove excess oil and unclog pores to get clear skin. This face wash does not dry your skin and prevents acne and other problems.
Strawberry Scrub Lotion with Walnut Grains
This scrub mildly exfoliates your skin and removes the dead cells and has antioxidant properties that protect your skin from UV damage to reveal a healthy complexion.
Lemon and Basil Soap
Use this soap to detoxify, tone and brighten your skin and also to cleanse it thoroughly.
Orange Lip Balm
Use this lip balm to prevent chapped lips and have a moisturized pout.
All purpose cream
An excellent, all-day skin nourishment cream; which reduces pigmentation marks and improves skin complexion.
Details
Gift Pack
Yes
Kit Contents
Lemon Face Wash (60ml) , Strawberry Scrub Lotion with Walnut Grains (110ml ), Lemon and Basil Soap (75gms), Orange Lip Balm (10gm) , All purpose cream (90gm)
Number of Contents in Combo Set
5 pcs
Skin type
All skin
Suitable For
Men, Women above 12 yrs all
Type
Organic
0