Zoom
Sale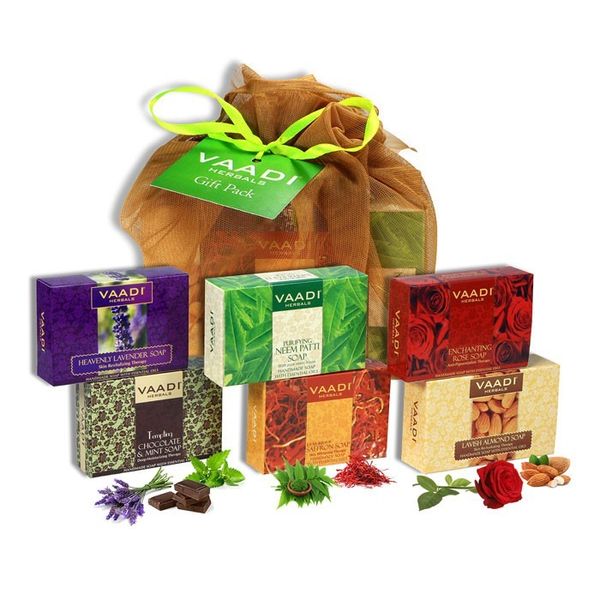 Vaadi Herbals Assorted Soaps Gift Pack (Set of 6)
Brand: Vaadi Herbals
Product Code: NDVAADI04
Availability: In Stock
Price: Rs.279 Rs.222 20% OFF
Vaadi Herbals Assorted Soaps Gift Pack (Set of 6) Price: Rs. 222
Start your day on a fresh note by bathing with these soaps from Vaadi Herbals that invigorate your senses and cleanse your skin effectively.
Enchanting Rose Soap
Coming to you with English rose's astringency and rich vitamin C, this soap is created with anti-pigmentation formula that reduces dark spots and blemishes.
Lavish Almond Soap
Enriched with almond oil, this soap improves your complexion and leaves you with soft and supple skin.
Heavenly Lavender Soap
Use this soap to revitalize your skin by improving blood circulation. This soap relieves congestion, reduces puffiness and promotes cellular regeneration.
Tempting Chocolate and Mint Soap
Use this soap to cleanse and moisturize your skin and keep it supple and smooth. The cocoa provides intense moisturization while mint keeps your skin healthy.
Purifying Neem and Tulsi Soap
This soap fights harmful germs and bacteria to endow you with skin that is healthy and well-maintained.
Luxurious Saffron Soap
This soap comes with the goodness of saffron that lightens your skin tone and gives you a bright and even complexion.
Details
Gift Pack
Yes
Kit Contents
Enchanting Rose Soap (75gm), Lavish Almond Soap(75gm), Heavenly Lavender Soap(75gm), Tempting Chocolate and Mint Soap(75gm), Purifying Neem and Tulsi Soap(75gm), Luxurious Saffron Soap(75gm)
Number of Contents in Combo Set
6 pcs
Skin type
All skin
Suitable For
Men, Women
Type
Organic
0