Zoom
Sale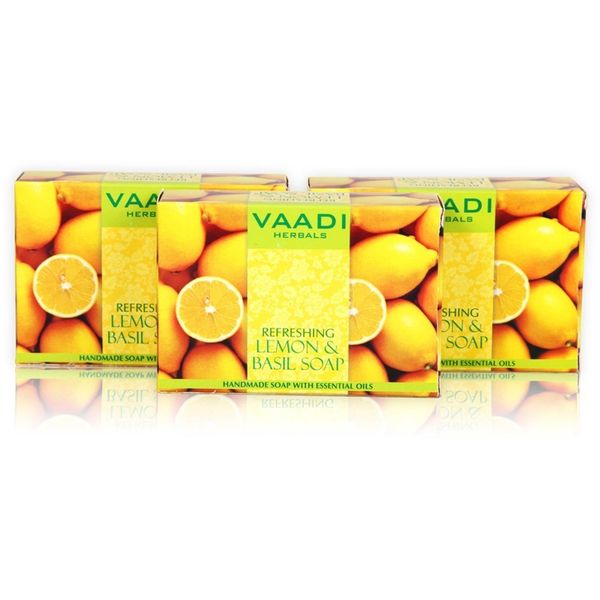 REFRESHING LEMON AND BASIL SOAP (3 X 75 gms)
Price: Rs.209 Rs.120 43% OFF
Quick Overview
This vitamin-rich soap cleanses, tones and brightens up your skin. It rids the skin surface of dirt, grime, excess oil and germs. It thus keeps your skin clean, while moisturizing and nourishing it.
Details
A healthier skin is evident when the skin is cleansed thoroughly and given the best of herbs for a therapeutic skin care experience
It is important to keep the stress levels low and let the skin cleanse from deep within the pores and thereon help improving the skin tone and complexion
It rids the skin surface as well as pores of dirt, grime, excess oil and germs
It thus keeps your skin clean, while moisturizing and nourishing it
Lemon: Tones Skin
Lightens & Brightens Complexion
Basil: Soothes & Detoxifies Skin
Improves Skin Tone
Additional Information
What factors make the skin lifeless and how can this be taken care of?
Whenever skin care is discussed, experts never fail to talk of oil regulation, cleansing and toning. A good soap is the one that makes skin softer, keeps it toned, brightens the skin-color and detoxifies the skin. But somehow, the ordinary soaps fail to do so. Instead, the chemicals in them make the skin harsh and lifeless by robbing off the oils
What makes lemon the natural skin whitener?
Stressful work atmosphere, ever-blazing sun and the pollution attack our skin, leading to sun spots, blemishes and dullness. Lemon juice is beneficial for the skin in a numerous ways. Pure concentrated lemon juice is extracted from the citrus plant. Lemon contains Vitamin C which is a great anti-oxidant. It nullifies the harsh effects. Wrinkles are kept at bay as lemon improves skin elasticity. Lemon gives the skin clarity and youthful sheen. Lemon unclogs the pores by removing excess oil which further prevents blackheads and acne outbreaks.
How is Basil form a miraculously important part of skin brightening?
Widely used as an essential oil, Basil Oil is an excellent anti-bacterial agent that targets acne, dry and dull skin conditions, rejuvenates the skin and helps it unwind the stress, pollution and UV rays, etc that make it lack-luster and blotchy. The circulation of blood is improved drastically. This makes Basil a great cure for acne and allergies.
Directions Of Use
Apply generously on wet skin, lather and lightly massage. Wash off.
Details
Benefits
Cleansing/Daily Use , Nourishing , Moisturizing , Oil Control
Ideal For
All skin type
Key Ingredients
@ Basil : Prevents the outburst of acne and pimples as they purify your blood by removing toxins. Also prevents the appearance of blackheads. @ Lemon : Contains many properties like antibacterial, astringent, skin lightening, vitamin C, citric acid, acidic agent, strong antioxidant, exfoliate properties which cures acne completely and also prevents the acne scars.
Size
75 gm x 3 pcs
Type
Herbal
0