Zoom
Sale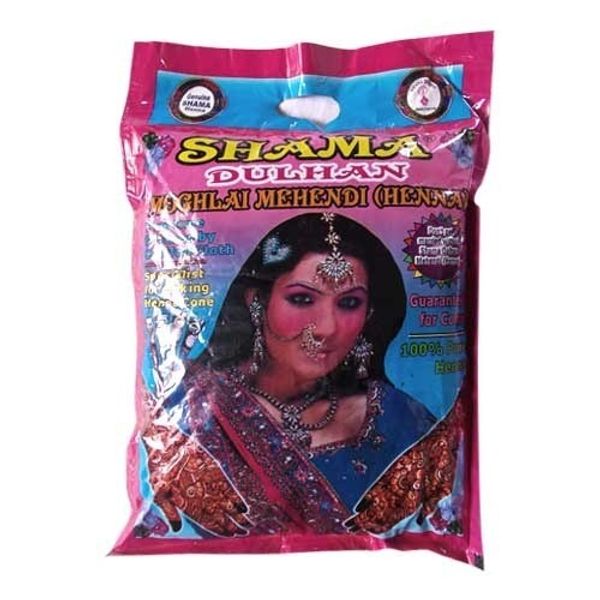 Shama Dulhan Moghlai Mehendi (Heena) 1 kg
Price: Rs.340 Rs.299 12% OFF
SHAMA DULHAN MEHANDI(HENNA) Henna contains special blend of top quality henna and rare herbal ingredients. A herbal hair darkener, conditioner controls dandruff and prevents hair loss.
Directions
TO MAKE HAIR DARK BROWN
Take 2 tbsp. of coffee powder, 1 tbsp. of katta powder. Add little water and boil for 20 mins. Mix the above decoction with the mehandi powder. Add Water to make a paste allow to settle for 30 mins. to 1 hr. Boil some lady fingers, Add this water and juice of 1 lemon to the paste just before use.

TO MAKE HAIR REDDISH MAROON Take two tbsp. of tea powder, 1 tbsp. methi powder, 1 tbsp. of eucalyptus oil and 3 tbsp. of tamarind juice and boil for 20 mins. Mix the above decoction with mehandi powder to make a paste. Allow to settle for 30 minutes to 1 hr. Add a tbsp. of vinegar 5 mins. before use.

FOR CONDITIONING OF HAIR Mix Henna into a paste with a cup of curd and water, add a teaspoon of Methi powder and an egg or tbsp. of protinex powder. Mix well and apply on hair for thirty minutes which will control dandruff and arrest hair loss.

TO MAKE HAIR REDDISH BROWN Soak henna overnight or minimum 3 hours. Preferably soak in iron container for a dark tint. Apply in small sections and comb through. Keep for 2-3 hours for a deep tint, if using as conditioner rinse off after 30 mins. and shampoo.
FOR BURNISHED HIGHLIGHTS Take juice of 2 beetroots, henna powder, 6 to 8 hibiscus flowers 3 tbsp. of lady fingers juice and boil for 20 mins. Allow to stand for 30 mins. Add 2 tbsp. of lemon juice before use.
Details
Benefits
Henna is a natural product that can be used to prevent hair fall and for natural hair growth. Henna not only gives natural colour to your hair but also prevents hair fall. Some other benefits of henna are: • Henna is a natural powder that not only gives color to your hair, but also prevents dandruff and itching of the scalp. • Henna is a good hair conditioner and helps in natural growth of your hair. It is a natural source for people who wanted to get rid of grey hair. • Many people are allergic to chemical substances that are present in chemical hair dye. Henna is an excellent substitute for such people who want to colour their hair without getting any side effects. • Henna also makes your hair strong and gives silky and shiny appearance to your hair. There is less breakage and less hair fall by using henna as a hair colour. • Henna thickens your hair and gives a healthy appearance to your hair. • Henna also has antibacterial and antifungal properties due to which it promotes hair growth.
How to apply
Hair dying and conditioning: Mix a suitable amount with curd or water to make a paste and apply it all over the head, wearing hand gloves. Rinse the hair after an hour. Oil post wash for better gloss and shine. To dye you hair black: Mix a suitable amount of Henna powder with curd or water to make a paste and apply it all over the head, wearing hand gloves. Rinse the mixture off after 40-45 minutes. Mix a suitable amount of Henna powder with curd or water to make a paste and apply it all over the head, wearing hand gloves. Leave it on for 30 minutes or till the time it starts to dry. The longer the paste is left on the hair, the stronger the colour will be. Rinse with water.
SIze
1 kg
Use for
HAIR COLOUR , HAIR CONDITIONONG, HAIR DYING, HENNA FOR BODYART (TEMPORARY TATTOOS), DESIGN
0