Zoom
Sale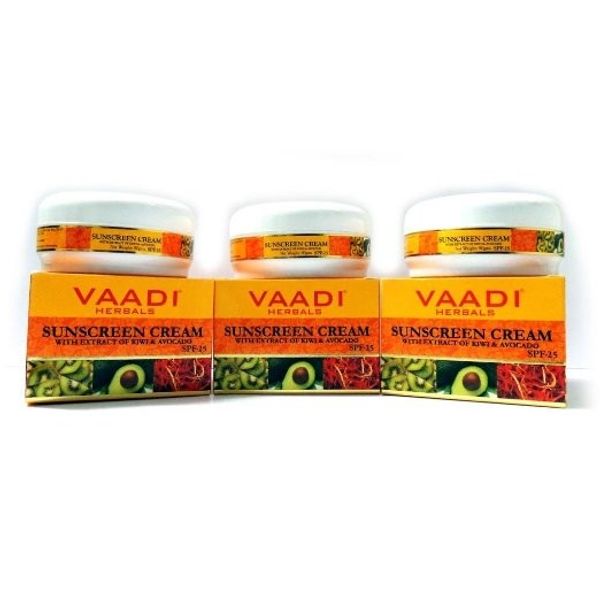 Sunscreen Cream with Extract of Kiwi & Avocado SPF 25
Brand: Vaadi Herbals
Product Code: ND04071
Availability: In Stock
Price: Rs.124 Rs.62 50% OFF
Quick Overview
A 3 in 1 Ayurvedic treatment that protects your skin from UV rays, moisturizes your skin and brightens and smoothens skin.
Ingredients
Vitamin E : A powerful anti oxidant that protects the skin from UV rays.


Aloe Vera : Nourishes and moisturizes the skin.


Wheatgerm Oil : Prevents skin darkening and makes complexion fair.


Manjistha : Makes skin look fairer & softer.
Directions For Use
Apply daily all over your face, neck and exposed parts of body.
More Info
What is suntan? The human body has its own mechanism of protecting itself from external factors that cause harm to it
When the UVA and UVB rays from the sun attack us, the skin produces Melanin in the epidermal layer of the skin
Melanin acts as a protective shield against the sun's harmful effects
The skin, in result, darkens in color
Sun tanning over period of time leads to a dull, lack-luster skin with blemishes and black spots on the tanned areas
A sun block helps in keeping a tab on the tanning process, saving the skin from damage
The effect of a sun-block's action against UVB rays is measured in Sun Protection Factor or SPF
It is strongly recommended to apply a sun-block of SPF 15 or more at least 30 minutes before going out in the sun
This allows the ingredients to penetrate through the skin and prepare a shield against the harmful rays of the sun
Also, one must make sure the sun-block is effective against UVA rays as well
Also, the reapplication is important
Excessive sweating, water sports and toweling would wipe off the sun screen
Hence, one must make sure to reapply the sun block in such cases
Protecting us from the weather changes, bacterial infections and diseases, the skin acts as a perfect shield
But this shield needs nourishment and strength to perform it's safeguarding role perfectly
The sun is supposedly the source of essential Vitamin D
But what one tends to forget is that the harmful UVA and UVB rays from the sun end up damaging the skin to such harmful degrees that if not kept under tab, it can also lead to permanent darkness, excessive pigmentation and in worst cases, skin cancer
Details
Benefits
Blackheads & Spot Removal , Sun Protection , Moisturizing , Whitening & Fairness
Formulation
Cream
Ideal For
Women, Men
SPF Rating
SPF 15 to 30
Size
30gm x 3 pcs
0